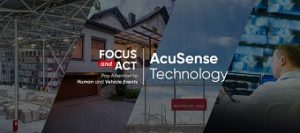 A sense of safety is one of the most basic human needs, personal and property safety are integrated into that sentiment as well. And this is exactly why people install security systems in their homes and businesses.
Compared to conventional sensor-based alarm systems, a surveillance system that utilizes cameras has several advantages: the ability to watch events in real-time, obtaining key data around those events, and providing solid and accurate evidence for law enforcement. By adding a touch of intelligence to Hikvision's popular cameras and video recorders, AcuSense technology makes these products your perfect choices for an accessible and intelligent security system!
WHAT IS HIKVISION ACUSENSE TECHNOLOGY?
As its name implies, Hikvision AcuSense Technology provides accurate sensing in security hardware. Empowered by deep learning algorithms, AcuSense technology distinguishes people and vehicles from other moving objects.
Focus on the Right Events – Human and Vehicle Intrusion
The most common concerns in perimeter protection are trespassing and vehicle break-ins.
AcuSense technology helps you to focus on human and vehicle events in two ways: the device will only trigger an alarm when the preset intrusion type (human or vehicle) takes place, and videos related to alarm events are sorted into human and vehicle categories for easier footage searches.
With AcuSense Technology come powerful functions
Accurate Alarms for Humans and Vehicles
Users can focus on alarms triggered by humans and vehicles while false alarms triggered by small animals or other irrelevant objects are vastly reduced.
Visual and Auditory Warning
On-site response and deterrence methods using visual and customizable auditory warnings add another layer of protection.

Search Targets Quickly by Type
Video clips are sorted by human and vehicle categories, and object classification vastly improves search efficiency.
Accurate Alarms for Humans and Vehicles
A surveillance camera would usually "see" many events, ranging from people crossing a perimeter to animals that accidentally enter.
For most security events, you will search for video clips that captured human or vehicle activities. With AcuSense devices, this gets easier. Video clips are already sorted into the "Human Files" and "Vehicle Files." Just simply click one of these categories and use time or location data to quickly locate the clip that you want. Compared to the conventional method which displays all video files at once, AcuSense makes searching more efficient.