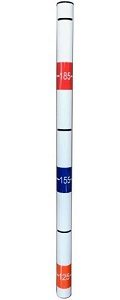 The new H.265 Wisenet XNB-H6461H Pinhole Height Strip camera from Hanwha Techwin offers users the opportunity to covertly capture an image of a person's face, and when used in conjunction with another camera, establish the approximate height of the person.
Ideal for banks, petrol stations, convenience stores and other retail type applications, the Wisenet IP network Pinhole Height Strip camera is able to support face recognition analytics and designed to be installed at an exit door. Positioned at eye level and looking in, it is able to capture clear frontal images of faces which can be recorded and used as evidence to prosecute anyone arrested for theft or fraudulent activity. "Loss prevention managers have told us that it is not unusual for a thief to 'case out' a store before attempting to steal anything," said Uri Guterman, Head of Product & Marketing for Hanwha Techwin Europe.
He adds, "Having taken a close look at where the store's video surveillance cameras are positioned, as well as the level of staffing, the thief then leaves the store only to return shortly afterwards with a cap or hat covering their face from the view of cameras which are normally installed on a ceiling looking down. The Pinhole Height Strip camera provides the opportunity to covertly capture a clear image of the culprit on their first visit to the store."
The 2 MP Wisenet XNB-H6461H pinhole camera comes equipped with a 4.6mm fixed lens that provides a 73° field of view. It also benefits from enhanced Wide Dynamic Range (WDR), which performs at up to 120dB, to produce clear images from scenes containing a challenging mix of bright and dark areas. This is quite often the case at entry/exit points of a building and normally results in overexposed or underexposed images. In addition, built-in Highlight Compensation (HLC) technology solves the problem of overexposure created by the presence of strong light sources, such as from store spotlights.
The camera's Hallway View provides a highly effective way to monitor narrow vertical areas such as shopping aisles and corridors. This enables the Wisenet XNB-H6461H, which can generate images in the 9:16 and 3:4 aspect ratios, to work effectively in tall and narrow spaces, with the added bonus of minimising bandwidth and video storage requirements.