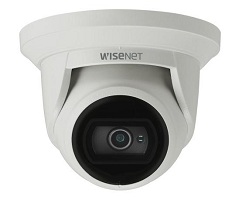 The new Wisenet 5 megapixel Flateye IR dome cameras manufactured by Hanwha Techwin are designed for high humidity environments and for where condensation might occur because of temperature differences. A key feature of the Wisenet QNE-8011R and QNE-8021R domes is that they each have a flat surface cover which is applied to the front of the lens, instead of the dome cover. This reduces IR diffused reflection which is caused by moisture and in the absence of a normal transparent dome cover, also removes the effect scratches can have on image clarity.
The Wisenet QNE-8011R is equipped with a 2.8mm fixed lens and the QNE-8021R has a 4.0mm fixed lens, whilst both have built-in IR functionality which ensures objects can be recognised at night up to a distance of 20 metres. As is the case with all cameras in the Wisenet Q series, the new models are all true day/night (ICR) cameras and feature Lens Distortion Correction (LDC).
They also benefit from enhanced Wide Dynamic Range (WDR) which performs at up to 120dB to produce clear images from scenes containing a challenging mix of bright and dark areas that normally results in overexposed or underexposed images. A new open platform chipset at the heart of the new domes provides the opportunity for some third party applications to run onboard the domes and enhanced Intelligent Video Analytics (IVA), such as defocus and tampering detection, as well as directional, intrusion, motion and enter/exit detection, are provided as standard.
Multiple streaming is supported with the choice of H.265, H.264 or MJPEG compression, whilst the new domes' bandwidth friendly credentials are enhanced by WiseStream II, a complimentary compression technology which dynamically controls encoding, balancing quality and compression, according to movement in the image.
Bandwidth efficiency is improved by up to 99% compared to current H.264 technology when WiseStream II is combined with H.265 compression. As such, WiseStream II reduces the total cost of ownership of a video surveillance system by minimising the storage and bandwidth requirements of high definition cameras.