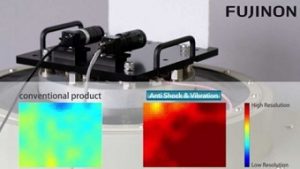 The new mechanical design of the latest Fujinon Machine Vision lenses allows the lenses to maintain their high optical performance despite the shocks and vibrations that unavoidably occur in industrial imaging systems.
Industrial imaging systems are frequently subject to strong accelerations, shocks, and vibrations. This is especially true for mobile systems, like robot-guided 3D scanners, but also for fixed installations. Such mechanical stress often causes a significant reduction of the resolution and a shift of the optical axis – severe problems for machine vision, optical metrology applications and optically calibrated systems.
Fujifilm has investigated the impact of shocks and vibrations on industrial fixed focal lenses via a dedicated test procedure. They found that depending on focal length and model the optical axis is shifted up to 26 µm, which corresponds to approx. 7 pixels with 2nd generation Sony Pregius sensors. According to the company, this kind of specification is not presented in most datasheets, but crucial in the selection process of lenses for optical metrology.
Further investigations led to the development of the Fujinon Anti-Shock & Vibration technology. The new lens design is based on an elastic and patent pending fixation of the internal lens arrangement. With this new technology incorporated into several Fujinon Machine Vision lenses the shift of the optical axis can be reduced down to just 4 µm and the resolution degradation is minimized. The new mechanical design makes lenses maintain their high optical performance despite the shocks and vibrations that unavoidably occur in industrial imaging systems. Lenses already equipped with the Fujinon Anti-Shock & Vibration design include all lenses from the HF-12M series for pixel sizes from 2.1 µm and sensors up to 1" and the HF-5M series for pixel sizes from 3.45 µm and sensors up to 1.1": 6mm and 50mm focal length