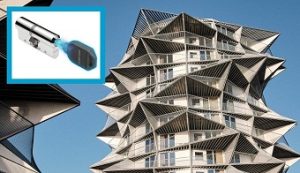 Esbjerg's new "A Place To" housing complex focuses on sustainability. It aims to maintain a green profile throughout its life-cycle. The developer is a Premium Member of Green Building Council Denmark, an organisation that promotes sustainable construction and sought efficient access control in keeping with A Place To's contemporary style and sustainability ethos.
Over 300 apartments are divided between three towers. These connect with common areas which offer multiple opportunities for social activity and "co-living". There's a cafe, fitness and yoga, a big screen, reading nooks and workstations, communal kitchens, and more.
For efficient access control, they looked for an energy-saving solution that would operate without batteries or wires. They wanted to benefit from cloud-based access management to give staff convenient, 24/7 control from anywhere.
Integration-readiness was another priority, to provide seamless operation with other building technologies, including online readers and door-phones, and inbuilt future-proofing: They can add new features or capacity anytime.
PULSE key-operated electronic cylinders with energy-harvesting technology now secure more than 300 apartments at A Place To: "We went for a future-proof solution which was maintenance-free and where we did not have to change batteries," explains Peter Høpfner, COO and Founder, A Place To.
PULSE devices are self-powered and run without any external energy source. The power generated on key insertion is harvested to energise encrypted electronic security. "It was a big plus with PULSE that keys and locks are battery and cable-free," he adds.
Access control at the site is managed in the cloud with Incedo Open software. The administrator can change anyone's access permissions online; keys are quickly updated at integrated door phones or online readers. This ensures resident authorisations are always current. Incedo Open makes it easy to disable lost keys. An administrator can see who has used a lock at any time, which helps to foster a sense of security among residents.
The PULSE key also contains an RFID chip: It doubles as an access card for the entrance and communal areas, for convenience and efficiency. Importantly, the platform-based Incedo ecosystem is "future-proof, so there is the possibility of future integrations with other systems," says Høpfner. When new needs arise at A Place To, their system can grow and adapt to demand.
In May, PULSE was awarded the winner of the Building Energy Award 2022, organised by BYGGERI, Denmark's largest construction fair. This award is given to energy-saving building parts and components for the construction sector. The award's purpose is to celebrate innovative products and solutions within the construction and to increase knowledge of climate-friendly building materials.