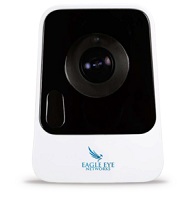 Now available through Eagle Eye reseller partners the Eagle Eye Mobile Camera MC01 will be fully integrated into the Eagle Eye Cloud VMS platform later this year. In the meantime, the compact camera operates on a standalone cloud recording system.
Mobile data plans will be available to channel partners. The Eagle Eye MC01 is a successor to the NuboCam, launched in 2015 as the world's first 4G/LTE camera. The MC01 introduces capabilities – greater robustness plus more integrations, flexible recording plans and comprehensive data plans – that meet the exacting requirements of commercial customers.
Designed for remote applications, temporary installations or environments where standard internet connectivity is unreliable. Environments could include remote industrial sites, remote storage facilities, crop monitoring, temporary construction, garages, building stairwells, festivals, oil and gas pumping stations, remote water cleaning facilities, ship locks, and health and home care applications.