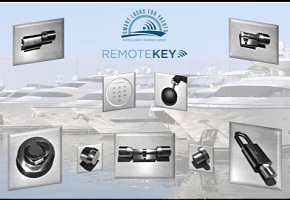 Smart Locks for Yachts is debuting its new Remotekey Intelligent Locking System, perfectly optimised for yachts with up to 20 doors, at this year's Southampton Boat Show (14-23 September). Remotekey will be showcased during the Mayflower Park event, with live demonstrations from the developer of the revolutionary system. Attendees will be able to experience firsthand how it operates and just how seamlessly it integrates into a yacht's existing architecture.
The innovative new system is derived from an already-successful configuration aboard large super yachts – this finely tuned edition is tailored to yachts and pocket super yachts, and ensures that vessels of every size can have the required functionality at a reasonable price. Practical and economical, Remotekey provides real-time door monitoring and immediate auto alerts for unobtrusive surveillance.
The secure web-based system contains safety features for complete peace of mind, such as the ability to mechanically open locks from the inside and remotely lock and unlock doors using a mobile device or computer. In addition, there is intelligent time scheduling and up-to-the-minute access logs. As well as the system's key fob transponder, contractors and visitors can be granted access to customisable routes via a free app-based key, which can be monitored from anywhere in the world, so owners have full control of their movements and always know who is on board. A sophisticated alert system can trigger instant notifications when a door is accessed or tampered with.
Remotekey only requires internet connectivity for remote access, and all on-board mechanisms are operated on the local radio network. The locks themselves hold all data – so they function flawlessly even if power is lost – and can be easily altered or backed up using close-proximity technology. The Remotekey system can be fitted to most marine door types, as well as integrated with cranes and passerelles, and tender and toy tie downs are secured with a Smart Padlock. Flush-mounted deck hatches can also be fastened via Smart Locks for Yachts' own patented lock. The installation process for all components is designed to be effortless, with ready-to-go software and locks that simply swap out for their mechanical counterparts. The entire system is easy to install, and can even be implemented mid-voyage by crew members – but if help is needed, Smart Locks for Yachts' technical experts are on hand 24/7