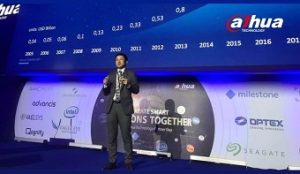 Dahua Technology, a pioneer in video-centric smart IoT solution and service provider, hosted its annual summit "Dahua Heart of City – Leading The Intelligent Twins Evolution" in Shenzhen, China. More than 400 industry representatives, industry experts, and mass media have witnessed the achievements of Dahua Heart of City (HOC) on empowering various industries and leading the smart applications in the era of "Intelligent Twins", as well as the release of cutting-edge technologies based on 5G, AIoT, and big data.
Dahua President, Mr. Ke Li shared the situation in which AIoT built digital twins and promoted the new growth of smart economy. According to him, the continuous evolution of technology has caused users' needs to be constantly updated, forging user value to lead "The Digital Twins" to "The Intelligent Twins".
Mr. Jun Yin, Vice President of Dahua R&D Center, delivered a keynote speech regarding "AIoT, Building The Cornerstone of The Intelligent Twins" and explained the significance of Dahua Technology's AIoT strategy: video as the core, to build leading sensing and intelligent capabilities; and reliance on whole network computing, to fully and truthfully build the data value of intelligent twins. Based on the company's "4 Full" strategy, Dahua Technology has comprehensively upgraded its three core capabilities of "sensing, intelligence, and computing".
Supported by both security and network systems, Dahua Technology has released five major products of the third generation of Dahua "Ruizhi" Series. Mr. Yin also added that Dahua Technology will continue to accelerate the commercialisation of new technologies, build a four-dimensional digital world to support the application of AIoT, and join hands with partners to strengthen the openness of AIoT capability in order to create new value for users.
Mr. Zhou added that DAHUA GAIA is the powerful foundation of Dahua HOC. It strengthens Dahua HOC's top-level design and scenario application capabilities, and boosts the construction of new smart cities, entering the "Intelligent Twins" together with customers. He also elaborated the DAHUA GAIA series software products and outstanding industry cases, which attracted lots of interest from guests and media.