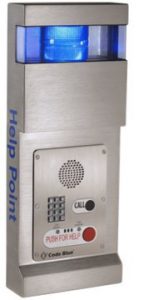 Code Blue Corporation is proud to announce that it has bolstered its signature Help Point® line of emergency phone enclosures with the immediate release of the CB 2-a, the latest model now available in the company's top-selling 2 Series.
With an eye to the future and a nod to the past, the CB 2-a ushers in a new era of design for Code Blue. Built with the end user, property owner and installer in mind, the CB 2-a brings together a litany of features unavailable in other products on the market.
Constructed of premium stainless steel, the CB 2-a delivers a sleek profile that is slim enough to be ADA compliant on any wall, making it an ideal match for walkways with high visibility and traffic. Its lightweight yet highly durable two-piece construction also makes installation easy for a single person.
The unit comes standard with several lighting features that raise visibility of the unit both during the day and at night. In addition to an energy-efficient LED faceplate light that illuminates a hands-free emergency speakerphone, the CB 2-a includes the all-new S-2000, a unique high output LED beacon/strobe. Embedded with numerous flash patterns and timing rates, its slim profile and 180-degree output makes it a perfect fit for the CB 2-a.