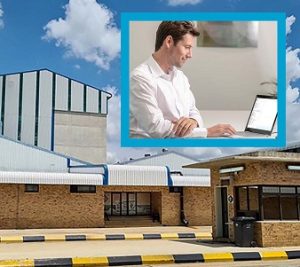 A large-scale food producer, LFC Milling, has had CLIQ key-operated electronic access control integrated by ASSA ABLOY for food safety, employee health and site security to work hand in hand for efficient operation. Based in South Africa, LFC Milling manufactures and sells maize products. The large LFC plant houses high-end manufacturing equipment used in the process.
The manufacturer was looking for an access control solution which would enable the business to manage access throughout its wide-ranging site, and control employee access to specific machines and equipment. The system needed to log all access into specific zones such as storage areas, giving security staff the ability to generate audit trails when needed and restricting access to any potentially dangerous areas or specialist equipment for health and safety purposes.
The access management software was another major concern during the commissioning and specification process, with the emphasis for a system with software which is easy to use, enabling swift onboarding of new personnel and quick changes to staff access rights when needed.
Cobus van der Linde, General Manager a LFC Milling explains: "We need to ensure that our employees and production processes are safe and secure at all times — and CLIQ supports that." CLIQ battery-powered programmable keys and locking cylinders authorise specific personnel to enter designated areas from toolrooms to storage areas, or can operate specific plant equipment.
For LFC's management of access rights the CLIQ Web Manager (CWM) software alongside a Wall Programming Device and Remote Functionality were used. The keys are said to be updated conveniently around the site. For added security, the keys are also set for specific revalidation periods: if a key is lost, it is quickly removed from the system.
The CWM software interface simplifies user, key and door management, as well as time-and-date functionality. It also provides audit trail reports should an administrator need to track access into a specific area or by a specific person. This has significantly improved accountability and security. "The CLIQ system allows for easy management of access control in a dynamic environment with continuous production and extremely high health and safety standards," adds van der Linde.