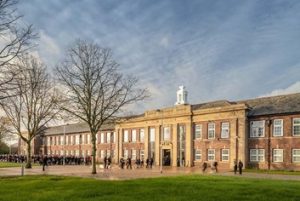 Two large high schools in Merseyside have upgraded their security with a new video surveillance solution from IDIS and its integration partner Apex Network Solutions.
The two schools form part of the Wade Deacon Trust in Merseyside, and were seeking to improve on their early generation IP CCTV system. The existing technology was resulting in rising maintenance costs, poor usability and variable image quality, according to the schools.
Using an end-to-end IDIS DirectIP solution, comprising 32-channel 4K recorders and a mixture of 5MP and 12MP IR domes, bullet and fisheye cameras, Apex delivered a system to the Wade Deacon high school that now offers lower cost of ownership and greater flexibility for future requirements.
The system is designed for unobtrusive coverage of corridors, indoor communal areas, entrances, building perimeters, and high-value sporting facilities which are vulnerable to vandalism out-of-hours. With plug-and-play set-up of the cameras, Apex engineers were able to complete the upgrade during term time without any disruption to learning.
The Wade Deacon Trust's Hillside High School in Bootle also needed to update its aging CCTV system, but the installation was more challenging due to the school's 1930s architecture, with a lack of ceiling voids for easy cable runs, long corridors, and solid floor construction. The school also wanted to address usability, gaps in coverage, variable image quality, and rising maintenance costs.
Apex again designed an end-to-end solution, enabling full system functionality without installation glitches due to the plug-and-play features of the cameras. The expanded system now includes 70 high-definition internal and external domes and bullets and the 12MP IDIS Super Fisheye – between them ensuring HD and ultra-HD image capture, even in challenging lighting conditions, with true WDR and IR LED capabilities.
The fisheye cameras are designed to provide affordable wide area coverage, effectively delivering the same visibility as three or four fixed lens models. As a result, the school's new system now ensures comprehensive coverage of corridors, communal areas, entrances, and school grounds.
It is also easier for staff to work with thanks to the IDIS Center VMS management software. The license-free VMS interface makes it simple to live view, playback and retrieve recorded footage and allows role-based access rights to be easily configured.
"We are very impressed with our IDIS solution installed by Apex," notes Jonathan Lowe, Director of ICT & Operations, Wade Deacon Trust. "Despite some infrastructure challenges, Apex listened to our requirements and delivered full system upgrades on time without any major disruptions or delays. The new solutions have given us reliable, comprehensive CCTV coverage, and it's proving easy to use to safeguard our school community."