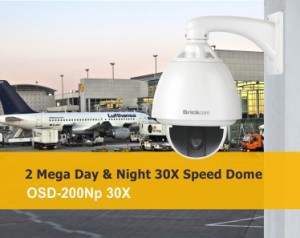 Brickcom Corporation is releasing the OSD-200Np 30X – 2 megapixel day and night outdoor speed dome IP network camera. The OSD-200Np 30X is an ideal solution for open-area surveillance in such places as airports, train stations, subways, parking areas, and seaports.
The OSD-200Np 30X features outstanding optical and high speed pan/tilt/zoom operation.  Designed for mission-critical surveillance applications, this camera supports 30X optical zoom and 32X digital zoom, and the pan and tilt speed is up to 90°/second allowing it to provide an immediate response to the user's commands.
As it is aimed at the outdoor use market, the OSD-200Np 30X is IP66 compliant and works in extreme temperatures (-45°C~50°C or -49°F ~ 122°F with heater support). The camera can be powered by either DC 12V or the 802.3at high-power PoE, and comes with 4 sets of digital input (DI) interfaces and 2 sets of digital output (DO) interfaces for connecting multiple external alarms and sensors.
With Brickcom 120dB WDR Enhancement technology, the camera is able to display crystal clear images in a scene even in environments with glare, high contrast, strong backlight, and light reflection. Additionally, the 30X zoom with auto focus feature enables users to not only focus precisely and quickly, but also provides more details with superior clear images.
The zoom in /zoom out function can sometimes cause camera shake and may affect the image quality, to counter this Brickcom incorporates electronic image stabiliser (EIS) technology to effectively solve this problem. The EIS function is able to detect camera shake internally, and performs digital compensation processing to suppress this shaking effect and stabilize the image output.