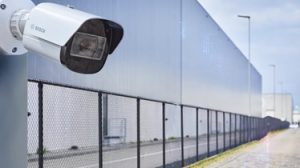 Securing perimeters or monitoring heavy traffic demands powerful cameras to keep up with challenging environments around the clock. The new DINION 7100i IR cameras provide accuracy without exception, reliable long-range detection, precise classification, outstanding low-light performance, and valuable insights.
Built-in 4K Ultra High Definition (UHD), starlight X, HDR X, and intelligent IR up to 120 metres (393 feet) consistently deliver clear images in all lighting and weather, distinguishing individuals and objects for proof. Intelligent Video Analytics Pro (IVA Pro) uses real-life data to enhance building security, long-range perimeter detection, and traffic monitoring. EIS (electronic image stabilisation) and a robust design remove wind and vibration to maintain a steady image.
Powerful, application-specific edge-based AI combined with exceptional low-light performance over long distances provides the most reliable detection when securing critical assets. Gain a deeper scene understanding, even in crowded areas and congested roadways.
Ensure business continuity, minimise traffic disruptions and replacements with a camera that resists shocks, vibration, and corrosion, saving time and money.
Reduce monitoring time on the end-user side and resolve problems quickly with AI at the edge, so your customers' security team can focus on what matters. Save time with pre-installed and easy to calibrate* analytics. Simplify installation with Bosch's patent pending swivel concept.
Maintain, configure, and manage devices remotely. Enable your customers to access the system or video footage anytime, anywhere. That's more convenient for everyone, reducing costs, travel, and CO2 emissions related to on-site visits. Enjoy peace of mind knowing that DINION 7100i IR cameras are built for the highest level of security. They are certified to UL 2900-2-3 Level 2, IEC 62443-4-1 and IoT SMM by IIC cybersecurity standards.
Assess and respond to threats quickly thanks to an intuitive display of moving objects on geographical maps (Genetec RSA). Get complete control on how you search the data, even with new criteria, not previously used (Milestone forensic search).