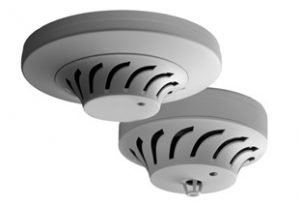 Bosch Security Systems' Automatic Fire Detector 440 Series of analog addressable device consists of seven detectors and four bases, includes detectors with photoelectric, heat and carbon monoxide sensors for maximum reliability and reduced false alarms.
The detectors are also designed with Bosch's powerful Dual Ray Technology, which provides extremely reliable fire detection. The technology's dual-optical sensor uses two LEDs (one infrared and one blue) to scatter light. The detector compares the intensity of the different wavelengths to determine smoke density and particle size. This allows it to differentiate between smoke particles and other particles – such as dust or steam – that can cause false alarms in other detectors. Each detector also features Intelligent Signal Processing, which uses a sophisticated, high speed microprocessor to analyze signals from each sensor. A complex algorithm ensures the sensor pattern matches that of a real fire scenario to provide immunity against possible false alarm triggers, such as steam or high humidity. This advanced technology significantly reduces false alarm rates and provides more accurate fire detection, while also achieving faster recognition of different types of fires.
Six available smoke detector models offer the option of single- or dual-optical sensors: the FAP-440 / FAP-440-D Optical Smoke Detector, the FAP-440-T / FAP-440-DT Multisensor Detector with optical and thermal sensors, and the FAP-440-TC / FAP-440-DTC Multicriteria Detector for identifying the presence of smoke, heat and carbon monoxide. Multicriteria detectors better distinguish between fire and non-fire conditions and reduce false alarms in areas with challenging environmental conditions. Also available is the FAH-440 Heat Detector.
The new 440 series features a unique self-monitoring feature. If sensor functionality is not detected, a trouble message is generated and reported back to the panel. This helps ensure each area of a facility is always being monitored. In addition, a triple-color LED indicates status, including normal, trouble or alarm. The detectors are easy to address and service with rotary switches that are visible on each detector plate. Adjustable smoke and temperature sensitivity settings enable the detectors to adapt to a variety of ambient conditions. And, the unique Chamber Maid feature allows the unit to be cleaned without disassembly, ensuring reduced costs for end users over the life of the product.
The 440 Series models are ideal for a variety of applications, including office buildings, airports, hospitals, factories, warehouses and detention facilities. The detectors can also be fixed to the base to prevent vandalism in applications at high risk for tampering, such as schools, hotels and jails.