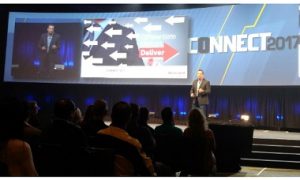 Each year Honeywell convenes members of its authorized dealer programs for a partnership conference that is routinely among the strongest events of its kind in the industry. Honeywell Connect 2017, held Nov. 9-11, was no exception.
The event, was jam-packed with insightful general and educational sessions, keynotes, awards, a technology/product/services showcase, plus networking activities and other goings-on. This year's theme — "Disrupt. Differentiate. Deliver." — provided a constant refrain during much of the event's programming, as presenters and featured speakers drilled home key factors in how to succeed to today's challenging marketplace.
About 800 security dealers and systems integrators, as well as other industry professionals, from across North America made the trip to sunny San Diego for the conference.
In his general session opening remarks, Scott Harkins, vice president, IoT partner programs, Honeywell Connected Home, spoke about the spin-off of the company's Homes product portfolio and ADI global distribution business. He emphasized the combined entity, valued at $4.5 billion, will be far more nimble in its ability to bring disruptive products and software to market.
Harkins also referred to the recent release of the Honeywell Smart Home Security System as "professionally-enabled DIY." Some dealers wonder if the offering will ultimately cannibalize business in the professional channel. However, Harkins delivered a reassuring message, explaining the system will allow Honeywell dealers to compete in 60% of households that have broadband but do not have a security system.