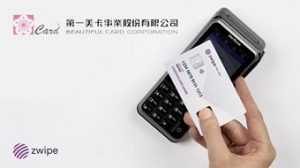 Zwipe has received a substantial order of USD 1.9m (net) for its flagship Zwipe Pay One product. The order was placed by Taiwan's Beautiful Card Corporation (BCC) and covers the supply of modules, sensors and inlays, enabling BCC to be one of the first manufacturers to bring significant volumes of this next generation of biometric payment cards to market.
This order for Zwipe Pay One, marketed as the world's first single silicon based biometric payment platform offered to card manufacturers globally, will be delivered in 2022, with the option to extend delivery beyond that date if market take-off is slower than anticipated, leaving any remaining unfulfilled quantities.
With around 520 million cards produced annually, of which around 20 million are EMV payment cards, BCC is listed as the largest scratch card manufacturer in Taiwan, the 2nd largest in Asia and 7th in the world.
This order follows on from the agreement between the two companies that was announced in May 2021 after an extensive period of evaluation of the Zwipe Pay One solution. With BCC's volume manufacturing facility now ready, and demand for the product intensifying across the globe, the timing is right for manufacturers to begin to commit to orders, thereby securing access to and delivery priority for this innovative product at scale.
"Driven by the rapidly growing sales pipeline of new opportunities identified for nextgen payment cards, BCC wishes to ensure production capacity and placing this order to Zwipe is part of that commitment to our customers. We are working on bringing a disruptive new product to market and are excited by the opportunities that this will create," commented Peggy Wu, CEO and Chairman of BCC.
"We are delighted and grateful that BCC has made this commitment to Zwipe and Zwipe Pay One. The partnership with BCC has been exceptional and we continue to work closely in advancing both technical and commercial activities. BCC's investment of human and financial resources to manufacture the Zwipe Pay One product has demonstrated their ability to bring an outstanding product to market at scale. We look forward to working even closer with BCC through certification and volume ramp-up," added André Løvestam, CEO of Zwipe.