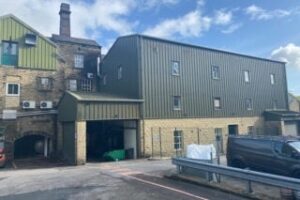 Timothy Taylor's Brewery, based in Keighley, Leeds, has had over 300 wireless fire devices installed as part of a significant upgrade to its fire safety system. Keighley's historic Timothy Taylor's Brewery, known for its popular Landlord cask ale, received the upgrade carried from PWP Fire & Security.
The PWP team designed and installed over 300 Taurus wireless fire devices from Hyfire, helping to protect the local brewery site, where the oldest buildings date back to 1863.
The family-owned brewery required a comprehensive upgrade of its fire systems, while also respecting the fabric and heritage of its historic structures.
Traditionally, the system would have required complex cabling due to the age and layout of the buildings. Hyfire's Taurus devices, coupled with 2no. Advanced MxPro fire panels utilising AlarmCalm false alarm management, were said to provide an optimal solution, ensuring a swift installation, reducing costs, and minimising interference with the brewing process.
Gavin Clarke, Head of Fire at PWP Fire & Security, said: "Preserving the integrity of such a historic site while enhancing fire safety was a unique challenge. Hyfire's Taurus wireless devices offered a perfect solution. Their installation was quick and efficient, minimising disruption to the brewery's production and saving considerable labour time compared to a traditional hardwired system. The impact on the buildings' fabric was also greatly reduced."
Chris McGregor, Regional Sales Manager – East at Hyfire, added: "We're proud to provide advanced wireless fire technology to an institution as esteemed as Timothy Taylor's Brewery. The unique requirements of this historic site highlight the benefits of our Taurus wireless devices."
Developed in Trieste, Italy, Taurus features Pathfinder Technology, which allows the devices to communicate over 1km, point to point in open air, and further where expansion hops are used. Antenna technology has been optimised to allow communication across different frequencies and environments.
Lee Scott, Engineering Manager at Timothy Taylor's Brewery, concluded: "The safety of our staff and the preservation of our historic site are paramount. We've been impressed by Hyfire's Taurus wireless fire devices. "They've demonstrated superior performance and reliability, ensuring the highest level of protection for our premises without disturbing the heritage of our buildings or our brewing operations."