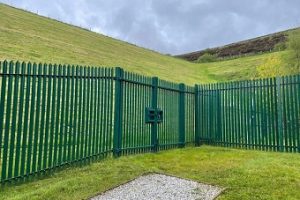 A water treatment plant in the north of England, considered one of the 13 critical national infrastructures by the UK Government, has installed 450m of LPS 1175 rated fencing and gates to solve several security challenges the work was experiencing.
The installation of fencing and various gates, including specially fabricated panels and bespoke fabrication work, was completed with the assistance of Secured by Design member Lochrin Bain. The project involved LPS1175 Issue 8: B3 (SR2) Combi SL2 Palisade security fencing, chosen by the main contractors NMCN.
The area that needed to be secured featured various 'problematic' sections with pipes running through the fence line or having to go up against uneven wall sections while maintaining the specified security rating. The installation company, IP Jones, worked with Lochrin Bain's technical department to ensure original concepts and ideas were transformed into full technical drawings for approval prior to manufacturing in-house.
The SL2 Palisade security fencing uses a vee slot design with additional security features which helped it gain LPS1175 Issue 8: B3 (SR2) accreditation, explains the manufacturer, while it also achieves Secured by Design's Police Preferred Specification status.
Stephen Russell, Commercial Manager at Lochrin Bain, said: "Everyone involved with the project was delighted with the process from original enquiry through to design stage, construction and handover. The installation team on site commented on the ease of installation being a massive selling point, with the panels raking to sloping sections across the site at ease. Working closely with I.P Jones Operations Manager and the Security team at NMCN the process was smooth with the client receiving a security rated fence on time and within budget."