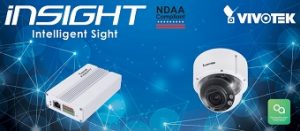 VIVOTEK, the global leading IP surveillance solution provider, has announced the launch of the new iNSIGHT Series with products driven by the Open Security & Safety Alliance (OSSA).
"Our new iNSIGHT Series presents added value and a deeper understanding that goes beyond the surface," explained David Liu, President of VIVOTEK USA, Inc. "The initiative follows OSSA's Technology Stack for video security devices that prescribes an open and standardized platform for security and safety solutions."
VIVOTEK's iNSIGHT Series products include an 8MP, 50M IR, IP67-rated fixed dome camera, the FD9392-EHTV-O, and AI-box, the IE9111-O. Available apps via the S&ST App Store include Gun-in-Hands Detection; Face Mask Detector; PPE Inspection; Audience Measurement; Parking Lot Occupancy; Fall Detection; Animal Counter; and much more.
"These two products represent the future of implementing an open platform approach in physical surveillance products, enabling system integrators, software application developers and users to cooperatively create in an open, efficient, and intelligent video age," Liu concluded.