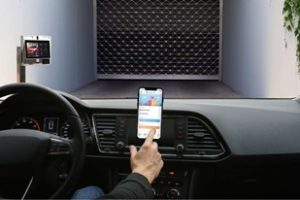 According to the latest reports from researchers at Fact MR, the global vehicle access control market is anticipated to reach US$ 25 billion by the end of 2033, expanding rapidly at 9.6% CAGR from 2023 to 2033.
The global vehicle access control market is expanding rapidly as a result of rising vehicle manufacturing and increasing electric vehicle sales. Furthermore, increasing car theft incidents is a major factor driving market expansion. The use of advanced vehicle access control systems to assure vehicle security and deter vehicle theft is moving the global vehicle access control industry forward. Moreover, technological progress allows users to access these systems via biometric and non-biometric technologies.
Biometric systems allow for easy access and aid in the elimination of car theft attempts. A biometric system can be set up to deliver a personalised user experience. As a result, biometric systems are widely employed in both passenger and luxury vehicles, which is projected to fuel the market expansion in the coming years.
Major automotive companies' increased investments to minimise the cost of installation of such systems, expanding demand for greater security and safety features, and growing preference for premium automobile models are estimated to contribute considerably to market growth.
A summary of the key findings in the research are as follows:
● The global vehicle access control market is valued at US$ 10 billion in 2023.
● Worldwide demand for vehicle access control systems is projected to increase at a CAGR of 9.6% during the forecast period (2023 to 2033).
● Global sales of vehicle access control systems are forecasted to reach US$ 25 billion by 2033.
● The United States market accounted for a valuation of US$ 3 billion in 2022.
● The biometric segment is projected to grow substantially over the next ten years.
According to analysts at Fact MR there is increasing concern about vehicle theft in both developed and emerging countries, and this is projected to drive global vehicle access control market expansion. Customers are looking for innovative vehicle access control solutions as technology advances. Furthermore, automotive businesses, both high-end and low-end, are investing in the development of advanced control systems, which is expected to boost market growth.
North America is leading the global vehicle access control market, and as you might expect the research shows that the United States is the major market in North America due to an increase in car thefts. Moreover, Europe and Asia Pacific are following North America in terms of growth.
The market in Asia Pacific is witnessing growth due to increasing vehicle production, growing demand for high-end autos, and heightened awareness of the security advantages of vehicle access control solutions.