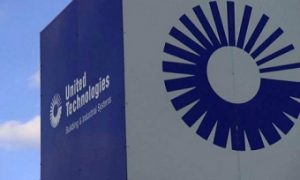 United Technologies Corp. is starting the final round of an auction for its fire safety and security business, Bloomberg reported recently. The industrial conglomerate has received offers from Apax Partners and PAI Partners, as well as a joint bid from Eurazeo SE and Rhone Capital. The asset could fetch about $3 billion, one of the sources said.
No final decisions have been made and the bidders may decide against buying the asset or UTC may decide against a sale, they told Bloomberg. UTC, which operates jet engine, elevator and HVAC businesses, is weighing a breakup after it completes a $23 billion deal for Rockwell Collins that will create an aerospace behemoth. That plan has been publicly supported by two activist shareholders, Third Point's Dan Loeb and Pershing Square Capital Management's Bill Ackman, Bloomberg reported.
The fire safety business manufactures sprinklers, smoke detectors and video surveillance equipment, and provides services such as training and maintenance, according to its website. Its brands include Chubb, Fireye and Kidde, among others.
On Sept. 14, UTC CEO Greg Hayes said the company would announce a decision within 60 days about whether to break up, sources familiar with the matter told Reuters. Chubb is a leading global provider of fire safety and security solutions for an array of vertical markets, including banking and finance, commercial and offices, education, government, healthcare and more. Chubb was acquired by UTC for about $1 billion in 2003, and is now part of the company's climate, controls and security division. Reuters noted that UTC as of late has been battling for market share with rivals Securitas AB and Tyco Int'l. Tyco was acquired by Johnson Controls Int'l two years ago for $16.5 billion