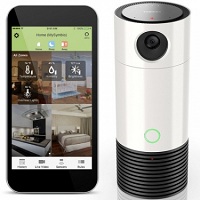 Toshiba Visual Solutions Corporation has announced the release of the new Symbio™ multi-function smart home solution, delivering the capabilities of six products—a wireless security camera, smart speaker, voice control with Amazon® Alexa, an intercom, smart sound detector and an expandable smart home hub—all in a single elegant device.
By consolidating multiple smart home functions into one solution, Symbio eliminates the need to purchase and control multiple devices, giving consumers more value for their money and empowering users to manage their smart home quickly and easily with their voice or a simple touch.
All Symbio functionality is controlled through a single, user-friendly app, which works with iOS and Android™ smartphones. The Toshiba Smart Home App turns a smartphone into a remote control for all Toshiba Symbio™ connected smart home devices. With the app, users have full control over everything from lights and music to door locks and temperature settings, from any location—at home, at the office or out of town.
Symbio also functions as a smart home hub, which accommodates many connected devices powered by Z-Wave or ZigBee wireless technology, the wireless communications protocol used in hundreds of home automation devices. With a growing number of devices available today, and more being continually introduced, users can easily expand and customize their home with additional smart devices over time.