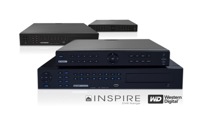 Inspire DVRs, designed and manufactured by COP Security, perfectly complement the high quality Western Digital AV hard drives used throughout the range. These specifically selected HDDs are optimised for audio and video applications.
COP Security increases product reliability further still by fitting the Inspire DVR's hard drives in-house and soak-testing each DVR for a minimum of one week before dispatch. The Inspire DVRs offer significant energy savings using Western Digital AV hard drives. IntelliPower technology balances spin speed, transfer rate and caching algorithms for optimal drive performance and gives power savings of up to 40 percent. The drives also run cooler, which helps to increase longevity.
Western Digital HDDs use Intelliseek and Intellipark technology, which reduces unnecessary power consumption, noise and vibration. Efficient drives of this type enable the Inspire DVRs to record high resolution video, stream from multiple channels simultaneously and retrieve data quickly for 'on-demand' playback.
All the advanced features offered by Western Digital AV hard drives, teamed with Cop Security's full UK design, manufacturing and support services, make the Inspire DVR range the best choice for professional installers.