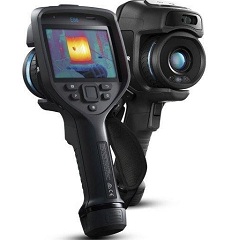 Flir Systems, Inc has just launched its latest high-performance maritime surveillance sensor system, the new Seaflir 280-HDEP. The company also reports receiving orders worth $14.6 million from the Taiwan Coast Guard, which is acquiring the upgraded long-range visible and thermal imaging sensors for deployment across three shipbuilding programmes.
"With its advanced technology, the Seaflir 280-HDEP is ready for any maritime mission scenario and provides unmatched support for battlespace agility and awareness," said FLIR Vice President and General Manager of Sensor Systems Tim Durham. "The 280-HDEP is the first maritime gimbal in its class to leverage edge processing to provide low-latency, AI capabilities that enhance the detection of objects of interest."
"For defence and commercial maritime operators this means reduced cognitive workload and improved effectiveness, which is especially important with the shift toward expeditionary naval deployments with expansive areas of open water to surveil," Durham added.
Designed for full-time, all-weather maritime duty, Seaflir 280-HDEP provides long-range target detection, identification, and tracking for a broad range of mission support, such as Intelligence, Surveillance and Reconnaissance (ISR); maritime search and rescue; interdiction; covert operations; Exclusive Economic Zone (EEZ) constabulary; and disaster recovery.
Seaflir 280-HDEP builds on the success of the company's Seaflir and Tacflir series of sensors. It also adds new features requested most by Flir customers for enhanced reliability and open architecture processing. The first delivery of the Seaflir 280-HDEP to the Taiwan Coast Guard was made in July through Kolead Aerospace Co., Ltd.