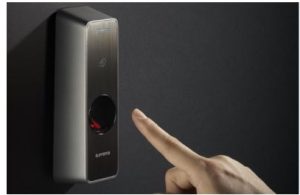 Suprema, a global leader in biometrics and security technology, announced global launching of BioEntry W2, an outdoor fingerprint access control device that offers highest matching performance, outdoor durability and multi-card reading in a package to provide comprehensive access control features.
BioEntry W2 blends loads of industry-leading technologies and innovations. BioEntry W2 is loaded with class-leading 1.2GHz quad core CPU which achieves incredible matching speed up to 150,000 match/second. With its large 2GB memory, BioEntry W2 can store and manage up to 500,000 users and provides instant matching results with minimal lag time.
BioEntry W2 is also the most secure device in its class. The device combines enhanced fingerprint algorithm, new fingerprint sensor, and live finger detection technology. The new Suprema fingerprint algorithm is more accurate than its predecessor and significantly reduces false rejection rate to improve security level. It compensates for unsatisfactory fingerprint captures such as direct sunlight conditions or distorted finger images. BioEntry W2 also features Suprema's patented live fingerprint detection technology that effectively eliminates possible fraud using various fake fingerprint materials including clay, rubber, silicon, paper and film.
Unique to the industry, BioEntry W2 features dual-frequency, multi-card reading technology. Supporting all HID multiCLASS compatible RFID standards, the device features both LF(125Khz) and HF(13.56MHz) RFID and reads most types of RFID card standards with a single device including MIFARE, HID iCLASS, DESFire, FeliCa, HID Prox, EM and NFC. Its innovative multi-RFID reading covers almost every RFID standards in the market and will benefits users with effective integration with legacy systems as well as will provide users with capability of adopting new authentication methods into their existing system including RFID, mobile and biometrics. With the new device, Suprema will remain as a major biometric provider in the market while outpace competitions in premium fingerprint access control segment," Moon added.