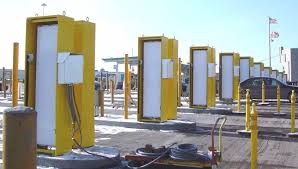 Smiths Detection has been awarded an indefinite-delivery-indefinite-quantity (IDIQ) contract with the Department of Homeland Security (DHS) Countering Weapons of Mass Destruction office (CWMD) to provide radiation portal monitors (RPM). The RPM is a passive checkpoint which can detect potentially dangerous radiation emitting material which passes through its detection zone. The portal is capable of scanning trucks, vehicles, containers, packages and people.
Shan Hood, President of Smiths Detection Inc., said: "Smiths Detection's extensive experience with radiation detection and checkpoint solutions, as well as our research & development investment in data solutions, makes cutting-edge screening technology a reality. Solutions, like the RPM and our ability to deliver 24/7/365 service sets Smiths Detection's solutions apart for their efficiency and effectiveness. We are ready to help DHS and the CWMD office protect the United States for years to come."
SDI is partnered with Radiation Solutions, Inc. (RSI) and Silverside Detectors Inc. to utilise gamma and neutron detection technology respectively. The IDIQ contract with CWMD has a $291m ceiling, allows for multiple orders of SDI products and services under a single contract, and provides flexibility for the customer in follow-on order decisions.