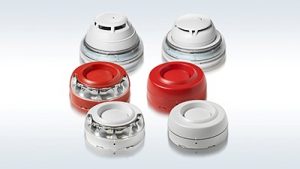 Siemens Smart Infrastructure has launched new ceiling- and wall-mounted alarm devices. The expanded portfolio includes both acoustic and optical alarm devices in accordance with European Standards EN 54-3 / EN 54-23 and EN 54-17. One highlight of the expanded portfolio are the voice sounders with built-in voice messages because they improve the reaction time to alarms.
The new products address evolving market developments for close integration of voice alarms with fire protection systems. Experience has shown that in the case of a fire or another dangerous situation, a simple alarm tone is often not observed but instead misinterpreted as a false alarm or as a drill. As a result, the persons who need to be warned either don't react or react belatedly. Speech-based alarms keep evacuation times as short as possible and minimize the risk to people.
The sounders feature 16 integrated tone patterns and three different sound levels (Min/Mid/Max), with the highest sound pressure being 99 dBA. The voice sounders have the same features as the sounders, but in addition contain messages that can be emitted in two languages along with an attention tone. In total, 15 languages are available in five predefined message categories: fire evacuation, emergency evacuation, alert, test and all-clear. The tone and voice messages are compliant with EN 54-3 and synchronised in an audible area and across all loops of a panel. Voice messaging, especially if it is in two languages, improves the reaction time, particularly for people who are not familiar with the building. Beyond the standard offering, the portfolio includes customised devices where any languages, message categories and tones can be incorporated.
The optical alarm devices feature three beacon settings in accordance with EN 54-23, which can be tailored to different room sizes and detector coverage areas. They have an extra setting that supports the use of the device with supplementary optical indication to save power. In addition, they are designed for use in system extensions and modernisations. All devices are addressable, loop-powered, and available with red and white LEDs.
To improve evacuation performance, a shorter pulse length with higher illumination is built into the beacons because studies have shown that this combination increases awareness in the case of an alarm. Beacons with these features are especially valuable in areas with loud ambient noises where acoustic signals are easy to miss. In addition, they help reach people who are hearing-impaired, wearing ear protection or using headphones.
Going a step further, Siemens increases the reliability of its alarm devices through daily disturbance-free self-tests of the electrical circuit, loudspeaker and light source. Very low levels of sound and light are emitted during testing so as not to disturb occupants. On a system level, the fire control panel can silently activate all alarm devices. The test results show if the power is sufficient for each alarm device, or if there is an overload or a wiring problem on the loop