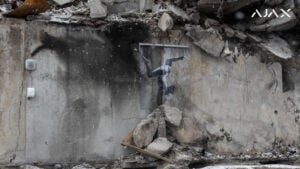 Security has been ramped up to protect world famous street art in Ukraine after an attempt to steal some. Wireless alarm systems have been installed on four Banksy paintings in the Kyiv region to protect them against potential vandalism and weather conditions.
The security system includes 20 detectors and four control panels, independent of constant power supply and has been installed by Ajax Systems in Borodyanka, Irpin, and Horenka.
Valentine Hrytsenko, CMO at Ajax Systems, said: "Protecting such objects is a challenge for any security system or installer.
"There were many obstacles: from destroyed buildings with paintings to no power supply. But with the assistance of the Kyiv Regional Administration and the Ministry, we were able to find and bring necessary solutions to life.
"We are happy to see Ajax products protect culture even in such challenging times."
Banksy's artworks became one of the symbols of support for Ukraine in autumn 2022 after war broke out. But in December that year an attempt was made to steal one of the works, so the project to protect the graffiti was initiated. The security system is controlled in a remote room at a distance of up to 1,700 metres away and aims to transfer alarms in less than 0.15 seconds.
There are MotionCam Outdoor PhOD motion detectors and DoorProtect Plus opening detectors to protect against attempts to damage or approach the artwork. The built-in sensors are designed to react to shocks and vibrations. When triggered, the StreetSiren siren should then activate and the rapid response team would arrive.
There are also transparent polycarbonate walls to protect the artworks from the external environment. The picture of a judoka in Borodyanka has a temporary protective structure with the LifeQuality smart air quality monitor inside to monitor the CO2, temperature, and humidity levels. The project was developed by the initiative of the Kyiv regional military administration and local administration.
Oleh Torkunov, the Deputy Head of the Kyiv Regional Military Administration, said: "Banksy's works have cultural and historical value for the country as a reminder that light will win over darkness.
"It is important to resist possible vandalism attempts that have already happened.
"We are grateful to our partners and security engineers. They have found and delivered a successful solution in a challenging environment."
Heorhii Yerko, Acting Head of the Village Council of Borodyanka, said: "We are grateful to Ajax Systems for fast responding and protecting the paintings. These art objects are war artefacts that we must preserve for Ukrainians. "Our cities have suffered from significant destruction, and these art objects represent an unbreakable belief that life will definitely win."
This is not the first Ajax Systems initiative to protect art and cultural monuments in Ukraine and abroad. In 2021 the original Constitution of Pylyp Orlyk was under the constant monitoring of the Ajax system in the historical building of St. Sophia Cathedral. The same year, the Ajax security system was installed in the Parkhomivka Museum named after A. F. Lunov.