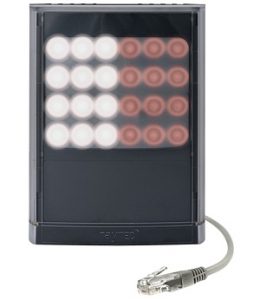 Raytec have released their new range of VARIO2 IP Hybrid Illuminators that combine 4 key technologies into a single package and immediately becomes the smartest and most connected illuminator in the security market today. Each illuminator combines Infra-Red, White-Light, IP connectivity and PoE technology into a single networked package – designed to deliver the right light for any situation, at any time.
Hybrid utilises Raytec's latest PLATINUM Elite twin-core SMT LEDs which are individually over 200% more powerful than previous generation LEDs. This allows Raytec to integrate all the performance of two full size illuminators (one Infra-Red and one White-Light) into one much smaller hybrid platform. Now security professionals get all the performance of two illuminators from a single package whilst reducing capital outlay, infrastructure and running costs.
Fully IP addressable, VARIO2 IP Hybrid allows one to stay connected with their site at all times. Operated remotely via a user-friendly GUI, one can take control of their lighting at any time to respond to live events or make easy remote adjustments. VARIO2 IP Hybrid can also be fully integrated with a VMS, BMS or other 3rd party devices, and you can automate it to respond to any incident, there and then, even if the site is unmanned.
Whether the goal is covert Infra-Red, close range facial recognition or white-light as a visual deterrent, one illuminator can now do it all. Raytec believes that Hybrid IP is the future of lighting in the security market. No longer will security professionals have to choose between Infra-Red or White-light, they will choose Hybrid IP lighting that can be easily integrated into the wider security system and deliver any light that is required. VARIO2 IP Hybrid represents an evolution of Raytec's award-winning VARIO IP range, becoming the only IP-enabled Hybrid illuminator in the market.