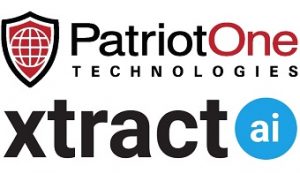 Patriot One Technologies Inc., developer of the PATSCAN Multi-Sensor Covert Weapon Detection Platform, has announced the acquisition of XTRACT Technologies Inc. and all its related interests, assets, and intellectual property for a consideration of $6,000,000 and the issuance of 9,422,956 Patriot One common shares to XTRACT's former shareholders.
Subject to certain exceptions based on the business of the company or the performance of the Company's common share price, the Consideration Shares will be subject to escrow restrictions and released on a quarterly basis over the next twelve consecutive fiscal quarters of Patriot One. The transaction follows demonstrated success of an ongoing collaborative project between the two firms that was announced in late July 2019.
The XTRACT acquisition is part of an ongoing strategic initiative by the company to bring together leading-edge technologies and services that will enhance the power of its PATSCAN Platform, which offers a layered, multi-sensor approach to concealed threat and disturbance detection.
The XTRACT team will bring additional leading-edge expertise in artificial intelligence (AI) and machine learning to the Patriot One staff. XTRACT's novel neural network architecture and data fusion techniques are robust, efficient and require less memory than comparable standards. With several strategic PATSCAN deployment initiatives in progress, including with Johnson Controls International and Bleutech Park-Las Vegas announced over the last month, the Company sees this move as both necessary and a key differentiator for its future platform development.
Following from the acquisition, former XTRACT Chairman and CEO Kevin O'Neill has been retained as an advisor to Patriot One and been invited to join Patriot One's Board of Directors. Mr. O'Neill has many years of experience investing in growth technology companies, following his early career in investment banking with Merrill Lynch. He has been a private investor and advisor to numerous successful early-stage technology businesses, including, among others, a telecommunications company acquired by Microsoft