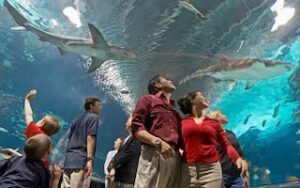 Newport Aquarium is located in Newport, Kentucky. The aquarium is home to thousands of the world's most exotic aquatic creatures, including playful penguins, rare white alligators, and smiling sharks and stingrays. To keep the animals, visitors, and staff safe, Newport Aquarium wanted to replace their old security system with an easy-to-use and high-security access control solution.
Sec-Tron, an experienced access control integrator, recommended Paxton's flagship access control system Net2 to provide a simple and scalable security solution. Net2 is an advanced PC-based access control system that offers centralised administration. It is also designed to easily integrate with other access control systems, so site managers can enjoy more streamlined security for their building.
With over 35 years of security industry experience, Sec-Tron specialises in providing custom access control solutions to commercial and industrial sites. Tom Riegler, Sales and Project Manager at Sec-Tron, said: "The whole aquarium is surrounded by pipes and tanks, some full of chemicals. They really needed access control at each area containing dangerous infrastructure to make sure only experienced employees could gain access and prohibit visitors from accessing those sensitive areas."
The IT team at Newport Aquarium also wanted a system that utilised access cards, allowing them to customise employee ID cards as access cards and increasing access convenience.
David Fortunato, Senior Regional IT Manager at the Newport Aquarium, said: "Most of our doors used locks and keys, and some had swipe card readers. At the aquarium we have a lot of doors and a lot of employees who need to carry equipment up and down stairs, so looking for keys in front of a door is not ideal. We really wanted to have one system on our exterior and critical safety doors, and also make access convenient for our employees."
When sourcing a security system, the Newport Aquarium needed durable hardware because of its unique environment. David explains: "Even though the products are installed and secured in cases and locked rooms, being an aquarium, we have heavy amounts of moisture and salt in the air. It can chew up the products." Another factor that needed consideration when designing the installation was the possibility of integrating the aquarium's existing wired infrastructure and security products with the new system.
Tom said: "We did a Net2 product demonstration to Newport Aquarium's IT team. We told them we could use all the existing cabling, readers, door handles and panels. We said we could retrofit the existing hardware with the Net2 door controllers and make it a clean installation."
Tom and his team at Sec-Tron installed Net2 at the aquarium. Tom said: "The expandability of the new system was the customer's main concern. They also liked Net2's pricing structure." The Net2 software can manage up to 1,000 doors and 50,000 users and requires no licence fees, making it a cost-effective and scalable security solution.
The Newport Aquarium now uses employee ID cards as Net2's access tokens. The employees scan their IDs at the staff entrance and go through physical screening to enter the aquarium. Once they are in the park, they need to present badges at each door to be given access for a certain number of hours, based on their role and duties.
David said: "With our old lock-and-key doors, it was hard to keep track of keys. It is one of the biggest benefits that Net2 has brought, that we could replace all those keys with badges and just keep a few keys for emergencies. It provides better tracking, higher security, and greater convenience for our employees."
David further explains how they maximise the features of Net2: "We use the timeline feature to tailor access hours and levels of each door. When it's after the aquarium's opening time, we lock the doors to prevent unauthorised access. Another feature we use a lot is the intruder alarm relay. If someone accidentally goes through our emergency exit, it will sound the horn through the relay and alert our staff to go check and make sure no one has gone to an area that they are not supposed to."
David manages the security systems for three theme parks under Herschend Family Entertainment Corp, the other two are Kentucky Kingdom & Hurricane Bay and Adventure Aquarium. The Newport Aquarium is their first Net2 installation, and they have plans to expand Net2 to their other sites.
David said: "We are doing the installation in phases. We started with 15 doors at the Newport Aquarium and now it's fitted across 53 doors. We have a plan to put Net2 on every possible door as it is just much more convenient and safer than keys, and everything is documented. We have also started putting Net2 in the Kentucky Kingdom, which is currently at its phase 1 with around 20 doors. Our other Adventure Aquarium in Philadelphia, the existing security system doesn't offer great access convenience while maintaining the security level that we require, so we have a plan to install Net2 there as well."