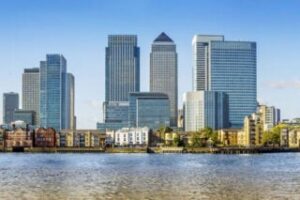 A residential development near Canary Wharf and the iconic Cutty Sark, now benefits from wireless fire protection including detectors, sounders and call points from Hyfire's Taurus range.
Almost 2,000 devices, including 913 heat detectors, were installed in a complete upgrade of the fire system in the building, including a temporary system – which can later be removed or repurposed – to allow for the rectification of defective cladding.
Comprising five Advanced MxPro 5 panels and including a paging system for residents with visual impairment and other needs, the work was undertaken by Gerrards Cross-based Chameleon Systems, who worked to a design and specification devised by Julian Crouch of Integrity Fire, acting as lead consultant on the project.
Crouch said: "This project was so big that some companies had actually turned down the chance to tender, but we knew that it could be delivered with the latest wireless tech from Hyfire. I worked closely with Chameleon, the residents' management company and the team at Hyfire to design and specify a system that could be installed rapidly and with minimal impact on the fabric of the building.
"The brief was to deliver the completed system with minimum disruption to residents, and Taurus allowed us to achieve this, along with savings in labour costs and reduced installation times – up to 90% less than a full wired system."
Christina Keating, Managing Director at Chameleon Systems, commented: "From being a niche product sector not so long ago, wireless is becoming the default choice for residential fire systems, where time is of the essence and where access to the residential units can be complex to arrange. Therefore, the benefits of being able to pre-programme a device offsite and install it in a few minutes, with no need to 'make good' afterwards, cannot be overstated, especially on a project of this size."
Fire panels are wired via a loop to translators, from which wireless devices can be used on their own to build fully wireless systems, or mix with Hyfire wired products to provide hybrid solutions, designed to offer more flexibility to specifiers and installers.
Developed in Trieste, Italy, Taurus features Pathfinder Technology, which is designed to allow the devices to communicate over 1km, point to point in open air, and further where expansion hops are used. Antenna technology has been optimised and are said to allow communication across different frequencies and environments, which means that Taurus requires less equipment and batteries.
Chris McGregor, Regional Sales Manager for Hyfire, commented: "We have a great working relationship with Julian at Integrity and with the team at Chameleon, so when they approached us with this massive project, we were only too happy to help them design the optimum system to cover the entire complex. Using the bespoke TauREX software package, they were able to install and commission the system in record time."