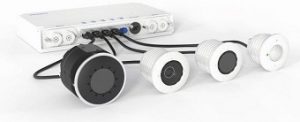 With the new S74 video system, MOBOTIX is significantly expanding the MOBOTIX 7 platform possibilities. Their new model is a high-performance IoT camera that includes up to four modules, which allows for more flexibility than any other MOBOTIX video system.
With its concealed camera housing, the camera acts exceptionally discreetly. Only the modules in the various mounts are visible. Equipped with connection cables up to 3 metres long, these optical, thermal and functional modules can be placed anywhere and, for example, can be connected simultaneously in several directions, around corners or in different rooms – inside and outside.
The S74 can also access already integrated camera apps that can be expanded almost indefinitely. That makes the video system universally suitable for any imaginable requirement in the most diverse industries. In addition to the already well-known 4K UHD modules in numerous lens opening angles, MOBOTIX presents a real world-first with the S74: The Ultra LowLight 4MP Day & Night sensor module with automatic day/night switching.
The Ultra LowLight technology can produce brilliant images, even in minimal lighting conditions, while faithfully reproducing the colours. That is important, for example, when identifying vehicles or persons, even in the darkest of areas. The modules also have shorter exposure times, significantly increasing the objects' sharpness moving through the twilight image.
The excellent signal-to-noise ratio (SRV) of 0.19 demonstrates the impressive brilliance of the Ultra LowLight sensors. That corresponds to a four times higher light sensitivity compared to a 4K UHD module. MOBOTIX also has vigorous backlighting technology. Thanks to the optimised Wide Dynamic Range function (WDR), all MOBOTIX 7 generation cameras can easily cope with challenging lighting conditions.
WDR simultaneously combines different images with different exposure times into one image, automatically brightening areas that are too dark and preventing areas that are too bright. The result is a more accurate, detailed image in all areas. The excellent image quality seamlessly continues in the thermal area. With VGA thermal technology and an extended image angle of up to 90° x 69°, one can recognise the smallest details.
Large areas (perimeter protection) and temperature differences can also be captured from great distances. The S74 integrates perfectly into the open MOBOTIX 7 platform. Thanks to the MOBOTIX camera apps based on Artificial Intelligence and Deep Learning, security or workflow processes are specifically supported. The existing MOBOTIX Certified Apps already cover a wide range of applications.