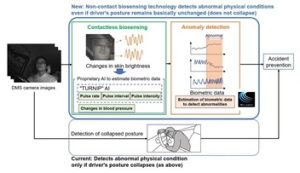 Mitsubishi Electric Corporation (Mitsubishi Electric) has announced that it has developed a technology to detect serious physical conditions experienced by people driving automobiles, such as loss of consciousness, by estimating pulse rate, changes in blood pressure and other biometric data collected with a contactless Driver Monitoring System (DMS) camera, which the company has already launched to detect driver distractions and drowsiness.
The new system uses Mitsubishi Electric's proprietary AI to estimate biometric data and proprietary Maisart® AI technology in order to detect abnormal physical conditions, even when the driver's posture basically does not change. In Japan, heart disease, epilepsy and cerebrovascular disease are the top three medical causes of car accidents that frequently result in death or serious injury.
Existing on-board technologies use a DMS camera to detect abnormal posture due to sudden illness, but it is believed that about 50%3 of the drivers who lose consciousness remain in an upright driving position without any noticeable change in posture, thus requiring a different method of detection.
Mitsubishi Electric has been working to develop a detection technology based on changes in biometric data that occur when drivers experience certain types of physical emergencies.
The company's new technology focuses on physical changes that are typically caused by heart disease, epilepsy and cerebrovascular disease, using a proprietary AI to estimate biometric data such as pulse rate, pulse interval, pulse intensity and changes in blood pressure collected from the driver using a contactless DMS camera.
In the future, these technologies are expected to help to prevent high-risk accidents through incorporation in vehicle-safety systems that would automatically stop a vehicle on the roadside, if a serious physical condition were detected in the driver, leading to improved automotive safety