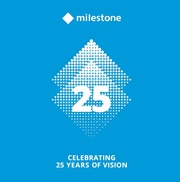 Milestone Systems, a leading provider of open platform video management software, announced the Danish-based company is celebrating its 25th anniversary in 2023.
The company was founded in 1998 by engineers John Blem and Henrik Friborg Jacobsen. The pair started the business from a basement and had approximately USD $11,500 in seed funding.
Today, Milestone has annual revenues over USD $140 million and employs more than 1,200 people globally. The first version of XProtect – Milestone's open-platform video management software and core product – was sold in 2002 in Canada.
Since then, Milestone's video technology products have been deployed in more than 500,000 security installations through a network of distributors and resellers.
Milestone's products are used by a variety of end users, from airports to cities to hospitals to many others — virtually all industries use video technology software to protect people and assets and optimise workflows. Milestone's XProtect can be integrated with the vast majority of cameras, sensors, and other security devices.
Beginning in 2003, Milestone expanded its footprint beyond its Brøndby headquarters on the outskirts of Copenhagen. The company now has a presence in 26 locations around the globe, including offices in the U.S., Singapore, Bulgaria, Mexico, Australia, India and the United Arab Emirates.
Over the years, the company says, Milestone has played an important role in creating software that is truly based on an open platform, free from propriety hurdles.
The company emerged during the transition from analog to IP cameras, which enabled Milestone to build a reliable, open platform upon which third-party technology partners can create add-on applications.
Milestone CEO Thomas Jensen says celebrating the company's 25th anniversary provides an opportunity to consider how far the company has come – and what the coming decades will bring.
"During the early 2000s, together with three or four other companies, we revolutionised the security industry by leading the transformation from analog to IP (digital) technology," said Jensen. "Looking ahead, we are preparing to innovate again.
"We see a future in which data-driven video technology is a game-changer that will help to make society safer and a better place for us all to work and live." As the company continues to grow, Milestone aims to further its work in creating responsible technology. Since 2006, the company has adopted a set of core values in which it puts people before technology.
In 2009, Milestone incorporated a human-rights clause into its end user licence agreements. In 2017, it co-authored the Copenhagen Letter, a declaration calling on innovative companies to prioritise people when designing and using technology.