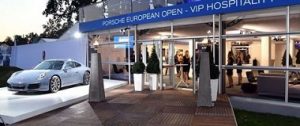 4Sports, a respected large-scale, high value sports events management company, recently selected Matica technology when it needed to integrate reliable accreditation technology to produce a VIP photo ID card that would reflect the high calibre brand – and expectations – of the European Golf Open's tournament sponsor, Porsche. The protection of guests at events is becoming increasingly scrutinised and companies are stepping up their security measures given the proliferation of fatal terrorist attacks that have specifically targeted organised events in recent times.
The cards for this project needed to allow a seamless, frictionless and enjoyable experience for both the VIP guest and the tournament's security staff. Additionally, the company's security objectives were underpinned by a need to restrict unauthorised access to certain areas or benefits and to constantly monitor the fill level of target areas. Specifically, 4Sports wanted an extra large (XL) format card; high print quality to reflect the prestigious brands; QR code which can be read by mobile readers and controlled online and offline; personalisation options; multi-modal functionality. The events company needed to be able to produce ID cards in advance but also on-site at the point of entry.
Some workers and suppliers also received this ID card and had different access and transport privileges. As there wasn't full wifi coverage at the event, the XL-format cards allowed security staff to quickly identify the cardholders following the first digital scan. This was checked through the physical photo ID and personalised colour-coded accreditation. Where wifi was available, security staff could use the QR code and handheld scanner devices.
The XL8300 printer provided superior print quality on long PVC cards and the largest printable area of all XL formats on the market. The printer encoded the XL contactless cards for electronic access control through QR code processing and allowed the event's organisers to print their VIP cards in advance as well as at the event itself for guests turning up on the day. The scope for personalisation was broad enough to distinguish accreditation and authorisation differences between workers and VIP guests. And importantly, the printer was flexible enough to integrate with numerous other non-Matica solutions that cards-x used to deliver accreditation at the event. Owing to the XL8300's exceptional modularity it integrated seamlessly with Card-x's data management platform, Microsoft Dynamics CRM – one of the world's best performing and popular platforms. Thanks to the platform's underlying mechanisms it was easy to integrate data from different sources into one central database.