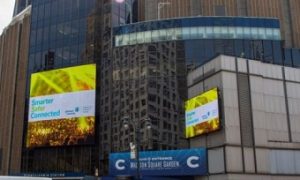 The Madison Square Garden Company has announced that Johnson Controls has been named the official and exclusive fire protection partner of Madison Square Garden and the Hulu Theater at Madison Square Garden. The partnership is an extension of Madison Square Garden's three-year transformation project, in which Johnson Controls implemented state-of-the-art fire alarm and security systems to help protect the arena and its occupants.
The partnership is said to provide Johnson Controls premier brand integration and exposure throughout the building, including venue signage and commercial spots on the building's 7th Avenue marquee.
Says Ron Skotarczak, executive vice president, marketing partnerships, The Madison Square Garden Company, "Our partners value the platform our world-class assets can offer, and we look forward to this partnership providing a great stage to showcase Johnson Controls at the world's most famous arena." Through this partnership, Johnson Controls will be an official member of MSG's "Bridge-to-Business Council," which is comprised of select MSG partners, and is geared toward facilitating business-to-business opportunities between one another, according to the company.
Additionally, Johnson Controls will be featured throughout Madison Square Garden's escalator towers and on IPTV screen rotations inside the arena. "Our role as The Garden's official and exclusive fire protection partner underscores our commitment to providing a smart, safe and connected environment for the world-class arena," says Lisa Roy, vice president of commercial sales, building solutions North America, Johnson Controls. "It's an honor to be a part of an ecosystem of partners supporting Madison Square Garden and future innovation."