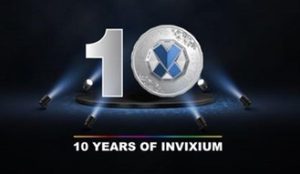 Few start-ups achieve the one-year anniversary mark, much fewer their 10th. Invixium, while humbled, is unsurprised to reach the milestone, given years of daily commitment, grind, grit and determination. From day one, Invixium has progressively scaled to a brand that offers cutting-edge biometric solutions for clients and partners across the globe.
Consistently innovating biometric solutions for some of the most prestigious clients and partners in business. Driven by a passion for design and an impulse for innovation, Invixium's desire for excellence is not limited to their suite of game-changing hardware.
A deeply rooted drive for excellence across all fronts is central to every aspect of an international operation pioneering the way in manufacturing, R&D, client services, and a transparent sales approach leaving clients in genuine awe. These are the tentpoles behind Invixium's exponential growth, continued multi-level refinement and progressive market domination.
CEO Shiraz Kapadia, speaking at what attendees have called a Hollywood-style anniversary event, said the following: "Today's event is for the dreamers. For the people who are crazy enough to start a business from nothing, then scale it. First they call you crazy, then they label you a visionary. This isn't about how hard it was for Invixium."
He adds, "Endless challenges, no sleep, working weekends. Any company that has been in business for 100, 50 or 10 years, they all go through the same toil and hard work. And, it's only after you start to see success that people call it 'overnight' success. But anyone who's been there knows what it truly takes, and Invixium salutes all the dreamers that reach the 10-year milestone!."
After 10 years, Invixium fields a suite of what most industry insiders have termed the most rugged and advanced biometric hardware solutions on the market. And with a meticulous client services journey at the forefront of the industry pioneering to increased demand across every continent, plans to slow down are not apparent.
Invixium's solutions are in demand precisely because of a robust, utilitarian approach to design and development combining aesthetic presentation that results in dynamically functional works for art. Products such as IXM TITAN continue to be a client favourite for this same reason, and experiencing progressive growth because they are backed by services guaranteeing client satisfaction.
Simple celebrations were not enough as Invixium reached this milestone. So their team of designers created a unique one-of-kind award custom-built to perfection. A bi-coloured decagon of copper and chrome signifying ten years of operation, with three sides emblazoned with each of the company's core values: Design, Quality and Experience, was presented to key staff members.
Mainly those who have been with the company since its inception and have continued to grow alongside the brand. In unison, an intricately designed and conceived branded medallion was awarded to all attendees across all offices worldwide.
Now, with 10 years in the bank, Invixium anticipates substantive and continued growth as well as more of their trademark innovation. Developing products that lead the biometric access control industry while ensuring customers, clients, their assets and most importantly their people are secured.