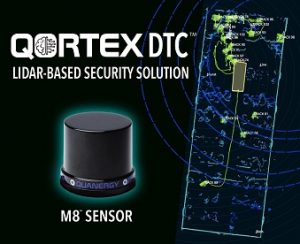 Quanergy Systems, Inc., a leading provider of Lidar (Light Detection and Ranging) sensors and smart perception solutions, has unveiled an industry-first solid state Lidar-based access control and people counter series of products for physical security and smart space applications.
The new product line features Quanergy's 3D AI-powered perception software, Qortex, combined with the S3-2, the industry's first 100% solid state Lidar sensor for building access control and people counting. Quanergy's S3 solid state family of compact Lidar sensors contains no moving or vibrating parts, enabling higher performance, longevity and cost efficiency while requiring less power than other technologies.
Quanergy Flow Management platform, which in addition to Qortex access control and Qortex People Counter includes Qortex DTC and Qortex's rich set of APIs, enables the development of sophisticated solutions for retail, airports, public venues, commercial and government buildings, and industrial warehouses.
"Enterprise and government organisations alike are looking to increase the security of their critical assets, and optimise the flow of people in very large and challenging environments while preserving people's privacy and leveraging their existing security and operational environments," said Enzo Signore, CMO of Quanergy. "For this reason, we have designed the Quanergy Flow Management platform to enable end-users, systems integrators, and application developers to build advanced solutions for security and smart spaces." The patent-pending Qortex access control and Qortex People Counter products are offering 98% detection accuracy in some of the most challenging use cases and environments.
Quantum IT, one of Quanergy's partners, is currently deploying Qortex People Counter at an iconic stadium in Australia to help improve customer experience through monitoring queue length and people counting, while simultaneously providing great insights around the correlation of ticket sales and food and beverage operations. "We strive to create customer-centric solutions that address specific needs of customers," said Mark O'Reilly, the Head of Innovation for Quantum IT. "The Qortex access control and people counter products are a key part of the design of various solutions, as they provide highly accurate, reliable and scalable technology that fits the needs of our customers."