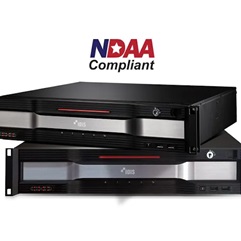 IDIS unveiled its NDAA-compliant AI in the Box (DV-3200) recently. This pre-configured video analytics server gives large-scale users the ability to boost the efficiency of their surveillance operations and take a proactive approach to safety and security with highly accurate and in-house developed deep learning analytics.
The new NDAA-compliant enterprise-class, 64-channel video analytics server with an NVIDIA® CUDA® and high-performance-accelerated platform from South Korea's largest in-country surveillance manufacturer uses the power of the IDIS Deep Learning Engine, with an industry-leading accuracy rate of up to 98%.
The DV-3200 comes pre configured with IDIS Solution Suite (ISS) VMS and IDIS Deep Learning Analytics, making event-detection more reliable and freeing operators from the burden of managing false alarm pop-ups triggered by harmless environmental factors. This reduces distraction and fatigue, making it easier for security, first responders, and policing teams to focus on events of interest and potential threats, giving them enhanced domain awareness to quickly verify events and initiate appropriate responses rapidly.
The DV-3200 enables highly accurate and calibration-free AI features, including object detection, line crossing, intrusion, and loitering detection. It also benefits users with robust object classification, enabling advanced search functionality driven by IDIS Instant Meta Filtering, designed to speed up and transform incident investigation. It allows rapid forensic post event search by trigger, object, color, and number across multiple video cameras, with automated searches now taking just minutes, removing the need for operators to manually comb through hours or days of footage.
Each AI video ready server allows analyses of up to 64-channels simultaneously, and by using IDIS Solution Suite VMS, organisations can easily scale up with additional boxes to manage and centrally monitor an unlimited number of devices and sites. Users also benefit from the flexibility to connect to a range of third-party cameras and devices; low maintenance costs; and smooth firmware updates.
The IDIS Deep Learning Engine is in-house developed and trained on vast datasets. This makes it exceptionally flexible and adaptable, giving systems integrators and users the option to configure analytics based on organisational or site-specific security and safety risks as well as operational requirements.
Users benefit from no ongoing licence fees or device connection costs, and IDIS' industry-best warranties underline the DV-3200's reliability and low maintenance burden. Together, these advantages contribute to reduced operating costs, particularly for large-scale and multi-site applications.
Jason Burrows, Sales Director, IDIS America, says this latest IDIS AI innovation makes advanced video analyses easier and more affordable to adopt for a range of organisations, such as school districts and university campuses, logistics and warehousing, and critical infrastructure with the potential to transform not only security and safety but tackle wider operational challenges.
"The DV-3200 is a game-changer for enterprise size customers, allowing video streams to be automatically monitored more accurately and affordably than ever before," he added. "With advanced video analytics supporting security and policing teams, time critical activities such as alarm response and incident investigations will become more efficient and faster than previously possible."