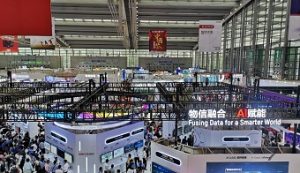 Hikvision exhibited its latest innovative technologies, products and solutions at the China Public Security Expo (CPSE) 2019 in Shenzhen.
This year marked the second anniversary of Hikvision's AI Cloud. Hikvision's presentation was dubbed 'Fusing Data for a Smarter World' and showcased its AI Cloud platform which supports integration of IoT and information network data designed to empower new intelligent applications and services.
Hikvision AI Cloud is based on a distributed architecture incorporating cloud computing and edge computing. It extends artificial intelligence (AI) algorithms from the cloud, to an edge domain of on-premises video recorders and servers, and further to edge nodes with security cameras and other IoT devices. The three-layer architecture supports the goal to provide a new class of smarter and faster AI-powered applications. At the show, visitors could see a large number of AI Cloud applications in action. These applications were created to help customers achieve digital transformation in areas like public safety, transportation, retail, finance, logistics, community, environmental protection, etc.
At the booth, visitors could also interact with the Hikvision AI open platform algorithm warehouse and delivery process. Via an AI Cloud user interface, they could experience how to select different algorithm models from the warehouse, load them on the AI camera and perform real-time, intelligent identification and analysis of objects like potato chips, fire extinguishers, and other items.
The Hikvision AI Cloud was developed to solve real-world challenges across multiple vertical markets, and to create continuous value for end users. The cutting-edge architecture is designed to enable collaboration between partners across edge computing, industry applications, service platforms and standard systems, and much more