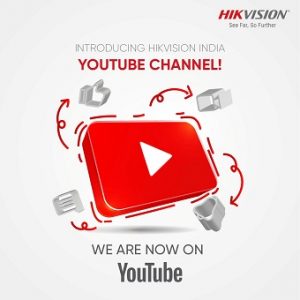 Hikvision India, the leading video security solution provider, has announced the launch of a new Hikvision India Channel on YouTube, the popular video sharing platform on the internet. This channel will evangelize the latest video security products and solutions from Hikvision India. These wide range of videos featured on Hikvision India YouTube Channel will act as a knowledge resource for system integrators, installers, dealers, distributors', consultants and end-users and security professional community.
The newly launched Hikvision India channel on YouTube, is designed to give access to the latest promotional videos, product demos and presentations. In addition, there will be regular updates on events, conferences and CSR activities.
"We are pleased to announce our latest digital initiative. Hikvision India YouTube channel would add another digital dimension to our marketing and promotional activities. We are also happy that our YouTube Channel subscribers' base has grown to a sizable number in a short span of time," said Ashish P. Dhakan, MD & CEO, Prama Hikvision India Pvt. Ltd.
He further added, "We are constantly looking at innovative ways to enhance the product and technology knowledge of our customers and partner ecosystem. The YouTube Channel is a valuable addition, which has the potential to deliver, in a convenient video-based format, the latest video content to assist with the product knowledge, technology update and vertical solutions. It would also act as a marketing resource to address the security industry ecosystem. The current initiative is just the beginning of our digital foray on the YouTube channel. We have planned the regular updates and hope to offer video demonstrations of our new products and solutions to spread awareness among the security professional community."
Hikvision India is India's leading provider of video surveillance products and solutions. Driven by the 'Make- in-India' vision, the company manufactures a wide range of video surveillance products at its state- of-the- art manufacturing facility near Mumbai. Backed by the 21 RMA centers, the company offers Smart IP Cameras, HD Analog Cameras, Speed Domes, NVRs, DVRs, Video Management Software, Access Control and Alarm Systems, Encoder, Decoders, and other elements of sophisticated security systems and CCTV technology for any security need. Hikvision India offers a diverse set of vertical market solutions, including Retail, Banking, Power Petroleum Oil and Gas (PPOG), Transportation, Education, Hospitality, Tourism, Government, Healthcare, Pharma, Heavy Industries and Real Estate, etc