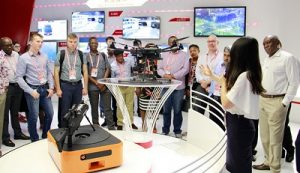 Hikvision, a supplier of innovative video surveillance products and solutions, recently welcomed the delegates from the BRICS Communications ministers conference to its head office in Hangzhou, China. Cynthia Ho, VP at Hikvision, and Keen Yao, VP at Hikvision international business centre, hosted the reception, and introduced Hikvision's latest technology innovations to the delegates.
During the visit, the conference delegates learned about Hikvision's achievements in technological innovation over the past years. Of note are the company's advances and products made using AI, Internet of Things technology, big data, and cloud technologies – all highly acclaimed by the delegates. Along with that, the guests were also impressed with Hikvision's expanded overseas business development, including its global business network establishment, the implementation of its localisation strategy, and the value continually being added to its worldwide customers.
In the Hikvision Smart Security experience centre, conference delegates observed a collection of intelligent functions driven by AI technology, including facial recognition, human body feature detection, and multiple target tracking. They also witnessed how improvements in data-driven algorithm performance have accelerated video intelligence in various "Smart" applications – Smart cities, buildings, transportation, manufacturing, and logistics, to name a few. Hikvision demonstrated its mounting experience in these vertical solutions.