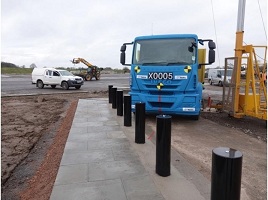 Heald Ltd, the UK's renowned designer and manufacturer of hostile vehicle mitigation security products has announced the launch of a Bridge Bollard System in response to recent vehicle attacks on several iconic bridges. A vital transport route, bridges are notoriously difficult to secure from the evolving threat of vehicle attacks via existing security products due to the need to either be installed by digging into foundations or by bolting to the ground which can affect the structural integrity of the bridge.
Addressing the installation challenges faced on bridges, in particular, Heald set out to develop a product which took into account the level of security required while ensuring the structural integrity of the location to be secured.
A game-changer for both UK and international security, Heald's Bridge Bollard System is the only product of its type to be crash tested to IWA-14 standards against an 18 tonner N3C Vehicle travelling at 30mph at a 30-degree impact angle. Its unique interlocking design provides shared distribution of the load, while patent applied technology offers additional protection by anchoring the bollards into the ground upon impact, preventing the vehicle from penetrating the area the bollards are protecting.
The product was crash tested with an array of nine interconnected bollards, with the design allowing for additional bollards to be added to expand the area being protected. While the product has been launched to address the challenges specifically faced in protecting bridges, it is also ideal for any locations where excavation or even bolting to the ground is not possible. Instead, the product is laid flush with the ground before paving stones or tarmac cover over the base plates. It requires no excavation and can be installed in just 45 minutes, excluding civil works.