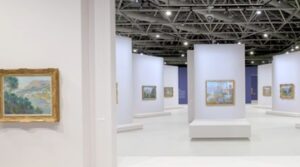 Grimaldi Forum Monaco (GFM) uses i-PRO multi-sensor and Fisheye security cameras with AI-based analytics to enhance visitor safety and protect priceless artworks at its exhibition.
Located in the city-state of Monaco, the Grimaldi Forum, serves as a prominent venue for conferences, conventions, cultural events, and world-class art exhibitions. The facility, according to the firm, hosts over 100 diverse events annually, attracting more than 250,000 people a year.
In the summer of 2023, the GFM showcased the "Monet in Full Light" exhibition, welcoming 120,000 visitors in 2 months and featuring nearly 100 of Claude Monet's masterpieces, including rare and previously unseen works.
According to i-PRO, GFM wanted to enhance its security infrastructure while supporting organisational processes. The GFM then used Monaco-based system integrator MES I2S Security to install over 100 i-PRO cameras, including fisheye and multi-sensors with advanced AI-based analytics. Philippe Martin, Director of Safety, Fire, and Risk Prevention at the GFM said: "When the Forum re-opened its doors to the public after a shutdown period due to Covid, we were looking for a solution that would help us manage the number and flow of visitors while ensuring the security of the premises.
"At the time, we were also planning for the much-anticipated Monet exhibition, so we wanted to find the best possible technology to protect these unique masterpieces without interfering with the visitor experience or compromising with the venue's aesthetic values."
Said to combine imaging performance with wide-area surveillance and IR LED lighting, the multi-sensor cameras are designed to allow the GFM security teams to monitor the activity across a large room while also enabling them to focus with great precision on a precise area of interest, any time of day or night.
Martin added: "If it wasn't for the wide range of coverage offered by i-PRO's multi-sensor cameras, we would have had to add another 77 cameras. Not only do they offer wider coverage capabilities with a larger tilt range than other multi-sensor cameras on the market, but they are small and discreet so they can blend into the design of our beautiful facility."
The GFM also implemented the firm's Scene Change Detection, an AI-based analytic application that aims to alert security teams to anomalies within the camera's field of view. This technology safeguards artworks by identifying unusual behaviour or unauthorised proximity to valuable pieces.
The Scene Change Detection app is said to be operated simultaneously with other apps such as AI Video Motion Detection (VMD) of objects, aimed at helping the security team conduct multiple detections with one camera. The motion detection is designed to send security guards an alarm when an intruder enters a specified area or if that person loiters in an area where they are not supposed to be.
It can also trigger an alarm if a specific threshold is crossed. AI-based object detection can help to minimise false alarms due to changes of light or passing shadows. Using the i-PRO Active Guard plug-in, the security team are said to be able to conduct real-time searches during an incident or deep forensic analysis post-event.
Operators can identify specific attributes in their watch lists (for instance "male wearing a red shirt and blue pants"), and the plug-in is designed to send them a real-time alarm whenever a match is identified. This can enhance real-time situational awareness and enables proactive security. The same process can be set up for fast data mining of events during forensic investigations.
The fisheye cameras were strategically positioned at entrances and major axes to monitor large areas with AI analytics designed to detect congestion, manage visitor traffic flow, and count the number of people in specific areas. Heat maps also provide statistical insights into traffic flow.
Martin said: "The technology we have implemented has precisely met the objectives we set at the beginning of this project," says Martin. "But the human aspect cannot be understated; the teams at i-PRO, and MES i2S have been amazing to work with."
The successful use of the new security systems has helped to ensure visitor safety during high-profile events like the Monet exhibition, and also, said i-PRO, strengthened the Grimaldi Forum Monaco's security posture to handle a variety of upcoming events and support future expansion plans.