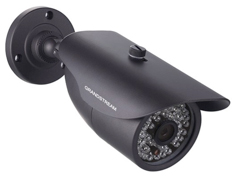 Grandstream Networks, the leading manufacturer of IP voice/video telephony and video surveillance solutions, recently announced a new weatherproof Infrared (IR) HD IP camera with an adjustable lens. The new GXV3674_HD_VF, Grandstream's first vari-focal IP camera, lets business and residential users adjust the camera lens to fit a wide range of security monitoring needs such as nearby areas (i.e. building entrances) or distant focus areas (i.e. parking lot).
The GXV3674_HD_VF IP Camera with vari-focal lens is manually adjustable from 2.8mm (close angle monitoring at 115 degree angle) to 12mm (long distance at a 30 degree angle) and any other angle in between. This camera features a 1.2 Megapixel CMOS image sensor, H.264 multi-streaming rate at 720p resolution, IP66 weatherproof casing, ONVIF compliance, integrated PoE, and infrared capability (IR_CUT and IR LED) for advanced nighttime and low-light video surveillance recording. Suitable for both indoor/outdoor applications and those situations where monitoring distance may change in the future, the user can easily adjust the lens accordingly.
Additionally, all of Grandstream's GXV IP Video Surveillance cameras, including the new GXV3674_HD_VF IP camera, support industry leading SIP/VoIP for 2-way audio and 1-way video streaming, advanced notification and alert options, built-in high performance streaming servers and more. Grandstream's IP cameras can be managed by FREE GSurf Pro Video Management Software that controls up to 36 cameras simultaneously.