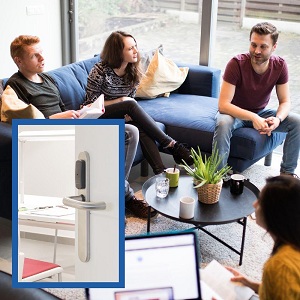 When securing student accommodation Smartair access control has the flexibility to handle high traffic and rapid resident turnover. A Smartair system is making life easier for student residence managers at Mezzino's Rialto Court in Middlesbrough, UK. Student accommodation blocks are usually large, with high traffic moving from bedrooms to common areas, canteens and libraries. A single resident travelling between her room, a study area, the gym and a couple of trips offsite would use secure doors 15 times a day. In a residence housing just 200 students, that's 3,000 daily events for the access system to handle.
Rapid student turnover puts a further admin burden on facility managers. Imagine, among hundreds of students living at the halls, just a handful leave or arrive each semester. That's a couple of manual key handovers to schedule every week, and to chase if a key-holder fails to appear. If keys are not handed in, is a room really secure for its next occupant? And how can you know if one has been copied? With physical keys and mechanical locks, security lacks flexibility, and it's impossible to get a site overview without a time-wasting manual key audit.
Mechanical security is not the answer, because mechanical locks don't offer the control or flexibility managers need. There's no real-time monitoring, and you can't generate detailed audit trails for locks or users, meaning there's no easy way to track unauthorised access — in a case of theft, for example.
The current crop of students — so-called "Generation Z" — were raised as digital natives. They expect convenience and in Europe's increasingly international, marketised higher education system, attracting these tech-savvy students and keeping them satisfied with the campus experience are critical. The Smartair wireless access system is built to meet all the challenges of securing a student residence. A wireless access control system like Smartair solves admin problems with a combination of control and cost-effectiveness. It is based on battery-powered locks and is easy to retrofit wirelessly to existing premises or incorporate in a new-build. Installers simply swap the existing mechanical lock for a wireless device and link the door to the management software.
Slim, robust Smartair devices can secure almost any opening. Escutcheons (with optional keypad for added security) are ideal for student bedrooms, and fit wood or glass, emergency exit and even fire doors. Available with or without PIN entry, Smartair wall readers can filter lift, main door or car park access. The Smartair knob cylinder is easy to retrofit to management offices; you just replace an existing mechanical cylinder with the Smartair device. For storing belongings, Smartair cabinet and locker locks are configurable in the same system without the need for an extra module.
With Smartair, students come and go using programmable smart cards, tags, or even the secure Smartair mobile app — not a cumbersome, easy-to-lose key. Smartair devices support all major RFID technologies. Plus, students only need carry one credential to open their door and access additional onsite services. A single card to unlock their room, secure their belongings inside a locker, enter the library, pay for photocopying and buy lunch makes sense for them. It's another step to boosting resident convenience. And because Smartair devices run on standard batteries, the system is also cost-effective for accommodation providers.