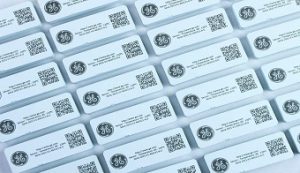 HID Global, in partnership with GE Hydro and Asygn, has developed a highly intelligent and robust RFID TAG solution that allows customers in the renewable energy sector to optimise availability and prevent unplanned outages. The TAG's rugged design presents opportunities in applications with industrial-grade requirements.
Located in severe environments, hydropower installations typically have aging connections between the rotor poles, which can exhibit drastic temperature rises and cause unplanned failures in production, among other challenges.
To measure temperatures, deformation and improve monitoring reliably, GE Hydro required both an antenna and a sensor chip embedded into a rugged TAG that would not deform or fail during equipment operation. Asygn, a developer and semiconductor integrated device manufacturer (IDM), created a special UHF RFID chip integrated into HID Global's TAG technology.
The chip captures temperature but can also get strain measurements when HID's TAG forwards that data contactless to an RFID reader. Due to the special environment and high rotation speed of the equipment, traditional wired or infrared measurement solutions were not applicable.
After detailed design reviews and validation testing, the final solution will work as an intelligent gateway capable of calibrating, collecting, filtering, averaging, and transmitting data locally. GE Hydro's Asset Performance Management software platform, which features machine-learning capabilities, aggregates and analyses the data, providing a unique intelligent reading of generator components that could not have been measured in operation before.
With this technology, GE Hydro's customers can push the hydropower equipment to its limits and enhance network power factor, lowering the risks of unseen bad connection temperature rises during rotor current increase, which are critical in current intricate electric grid systems.