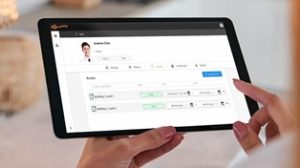 Global security manufacturer, Gallagher, celebrated its first win for the new Command Centre Web product in the Access Control category at the 2022 Cybersecured Awards recently. Launched in September 2022, Command Centre Web is the latest, most flexible evolution in the suite of Command Centre products. Gallagher's first web-based solution enables sites to access their Command Centre workstation from any device, anywhere with an internet connection.
Cybersecurity controls have been designed at every stage of development to offer protection against vulnerabilities and enable end users to control their data on site.
"Having a cloud-based interface enables us to deliver a flexible, yet secure, solution that we can update quickly for added functionality and cyber security improvements, and this is awesome recognition of our continuing cyber security leadership," says Steve Bell, Chief Technology Officer at Gallagher.
Command Centre Web gives customers more choices for managing everything from cardholder access and credentials to system updates. It's an adaptable response to evolving site management needs and changes in the workplace, giving customers the full, secure control they need to protect what matters most, no matter where they are.
Designed to complement the existing Gallagher suite of products, Command Centre Web creates operational efficiencies and delivers new enhancements quickly, with the added benefit of hands-off, regular updates for customers who previously needed to take manual action. Judged by an independent panel of security experts, the third annual Cybersecured awards honoured security products and services with outstanding achievements in transforming the cyber security industry.