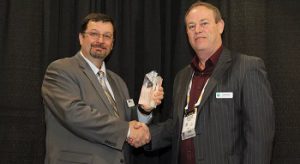 FST Biometrics, a leading visual identification solutions provider, received top industry recognition for its new IMID Access 4.0 product as a winner in the 2017 SIA New Product Showcase during ISC West in Las Vegas, FST Biometrics has announced. The Security Industry Association (SIA) award honoured the best new products in the showcase in a ceremony on 5 April.
SIA CEO Don Erickson commented: "Many returning companies entered the SIA New Product Showcase this year along with numerous new entrants, resulting in a remarkable range of new and improved products introduced at ISC West 2017. I congratulate FST Biometrics for distinguishing itself with its SIA New Product Showcase award in a very competitive year."
FST Biometrics received the award for Best User Authentication, Identification, Credentialing and Management Product at the Security Industry Association (SIA) New Product Showcase. FST also took home honors from Security Today's Govies awards program, winning the prize for best product in the "Access Control – Biometrics" category.
Arie Melamed, CMO for FST Biometrics, added: "We're proud to see that efforts to develop our product carefully, in tandem with innovative customers, has led to a mature product that is ready for the mass market. This type of industry recognition demonstrates that we have successfully overcome barriers to broad adoption of biometric visual identification."
Since its inception in 1979, SIA New Product Showcase has been the security industry's premier awards-based marketing program. This year's New Product Showcase received 120 entries from small, medium and large companies in the security industry. The NPS judges presented awards in 29 product and service categories.